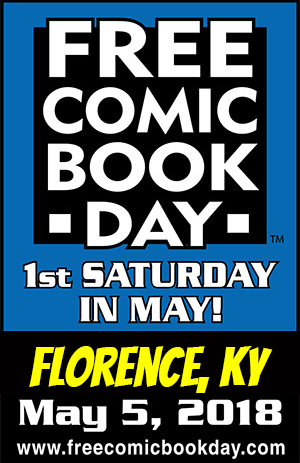 Florence Store Appearances
Craig Boldman
Writer of Jughead, prolific newspaper strip writer and artist and long time comic professional.
–Check out his work
Christopher Charlton
Writer of Black of Heart, Binary Gray, Sleepless, The Dolls, Retrothrust, and many others.
–Check out his work
https://www.charltonwrites.com
Travis Fessler
Of the Pickled Brothers Circus warms up the crowd before the doors even open with fire-eating, sword swallowing, and bullwhippery! He's also known for his wrangling of giant cockroaches. Check out their full amazing show at places like the Kentucky Highland Renaissance Festival, Ohio Renaissance Festival, Dogwood Pass, and Asheville Viking Festival.
–Check out his work
http://www.pickledbrothers.com
Tim Fuller
Writer of Sham Comics, Zombie Marge online comic, Cap'n Catnip, and curator of the Twelve-Way with Cheese collaboration
— Check out his work
http://hoohacomics.com/hooha_contact.html
Jay Kalagayan
Writer of MeSSed Season 1, Season 2, and MeSSed: Messenger
–Check out his work
Mark Kidwell
Writer of Rising Rebels, Creator of '68, '68: Last Rites, '68 Rule of War, Bump, and many others.
–Check out his work
https://www.facebook.com/Mark-Kidwell-306781166023303
https://www.jayfotos.com  (Rising Rebels)
Jay Leisten
Inker for Marvel Comics and of this year's FCBD Spider-Man, he is a prolific inker and has worked on some of the hottest projects coming out of the Marvel and DC Universes including Death of Wolverine, Secret Empire, Monsters Unleashed, Outsiders, Nightwing, Moon Knight and many more!
–Check out his work
https://www.clockwerkproductions.com
David Mack
Creator of Kabuki and artist on Marvel Comics' Cover, Emmy nominated New York Times Bestselling Author and Creator of Kabuki, work on American Gods, Fight Club, Jessica Jones, and Cultural Ambassador for the US State Department. 
–Check out his work
https://www.facebook.com/David-Mack-21231086294/
http://davidmackarts.com