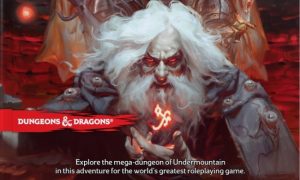 The upcoming Dungeons & Dragons adventure Waterdeep: Dungeon of the Mad Mage has inspired a new set of miniatures from WizKids.  The D&D Icons of the Realms – Waterdeep: Dungeon of the Mad Mage miniatures will release in February.
The miniatures in the set are being produced under license from Wizards of the Coast, and are designed to work well with the second volume of Wizard's up-coming pair of sourcebook adventures set in the fantasy city of Waterdeep (see "WotC Reveals Two New 'D&D Waterdeep' Volumes").
The new set will be available in both Standard Booster and Eight Ct. Booster Brickformats.  Each Standard Booster comes randomly packed with three medium or small figures plus one large or huge figure.  The Booster Brick includes eight Standard Boosters, for a total of 32 figures, and is packaged in cases of four Bricks(128 figures total).  MSRP is $15.99 per Standard Booster.
The complete set, which has a total of 44 different figures, features monsters and characters from the book, including the Elf Cleric of the Grave, the Death Tyrant, the Flumph, the Froghemoth, and even the Mad Mage himself, Halaster Blackcloak.
A limited number of Halaster's Lab Premium Sets will also be produced.  The Halaster's Lab set comes with a variety of scenery pieces meant to recreate the lab in the book, including the infamous relics known as the Eye and Hand of Vecna, 3 Preserved Corpses, 2 Book Shelves, 4 Large Standing Candles, a Ghost Lantern, a Summoning Circle, 4 tables, and a Giant Hour Glass, along with other items.  MSRP is $49.99.
WizKids will release a similar set for the first of the two new Waterdeep books next month (see "'D&D Icons of the Realms: Waterdeep Dragon Heist'").  In January, the company will release a large sailing ship model as part of the series (see "Massive Ship Miniature Joins 'D&D Icons of the Realms'").