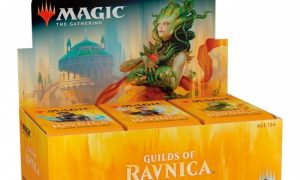 Wizards of the Coast has shared news about its upcoming Magic: The Gathering – Guilds of Ravnica products.
The Guilds of Ravnica releases will include Planeswalker Decks, Booster Packs, a Bundle, Prerelease Packs, Guild Kits and Theme Boosters.
The Guilds of Ravnica Open House will be September 22 – 23, the Prerelease will be September 29 -30, main release is October 5, and Draft Weekend will be October 6 – 7. These products will be released on various dates from September 29 – November 2.