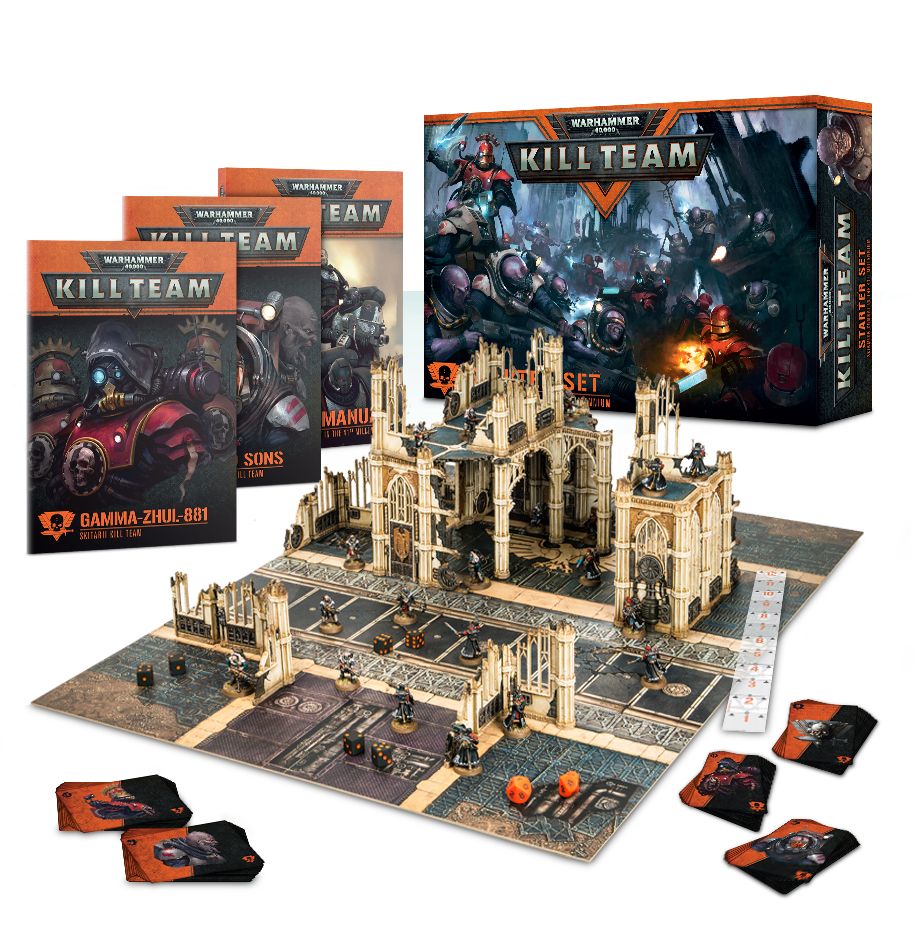 A fast paced tabletop miniatures game, Warhammer 40,000: Kill Team pits teams of elite specialists, ragtag zealots and hard-bitten veterans against each other in vicious skirmish battles to the bitter end. A single squad of well-trained and well-equipped warriors can tip the balance of a wider conflict – with Kill Team, you'll play through countless stories of your own devising that could alter the fate of the galaxy itself.
Games of Kill Team are based around small but powerful squads of warriors rather than huge armies. Every single model commanded is vitally important to your strategy, and will develop its own personality, history and abilities with each game you play. In this box set, you'll find everything you need to play games of Kill Team – from the comprehensive rulebook that covers Open, Narrative and Matched play games (and campaigns!), 2 complete 10-man plastic Kill Teams from the Adeptus Mechanicus and Genestealer Cults factions, a huge set of Imperial Ruins scenery and a gameboard to play on. Included:
Core Manual
Kill Team contains a 208-page softback core manual which contains not only the rules you need in order to play with the included miniatures, but rules for choosing and constructing a kill team from 16 factions in the Warhammer 40,000 range (Adeptus Astartes, Deathwatch, Grey Knights, Astra Militarum, Adeptus Mechanicus, Heretic Astartes, Death Guard, Thousand Sons, Asuryani, Drukhari, Harlequins, Necrons, Orks, T'au Empire, Tyranids and Genestealer Cults), along with background explaining the importance of kill teams to the wider battle for supremacy:
Background
– Shadow War: this section of the book takes you through the roles of kill teams in the 41st Millennium – whether surgically removing an enemy commander or dangerous demagogue, desperately fighting their way through a battlefield to reinforce stranded comrades or finding themselves the last line of defence against an overwhelming force, every battle between kill teams tells a story of heroism and adventure;
– Heroes All: every kill team is different, but all have certain features in common – each features a charismatic, cunning or domineering leader and specialists, skilled individuals who bring vital equipment and talents;
– Theatres of War: the supreme commanders of the 41st Millennium have incredible military might at their disposal, and yet there are many scenarios in which the precise application of a small, highly trained force is appropriate. Thousands of war zones have seen drastic changes after a kill team incursion; this section describes but a few of the myriad different environments these small squads have battled in.
Rules
– Core Rules: covering the basics of Kill Team, this section takes you through exactly what you need in order to play, explains how to interpret and use datasheets, and how to set up your battle. It takes you through Battle Rounds, which consist of Initiative, Movement, Psychic, Shooting, Fighting and Morale phases with annotated, easy to follow guides and photographs;
– Fighting a Battle: here you'll learn how the structure of your game will be defined – deciding on a mission, setting up the battlefield, and deploying your kill teams. Included is an example Open Play mission – Covert War – which serves as an easy introduction;
– Advanced Rules: this section adds a variety of optional rules for complexity and depth, recommended for use after players are familiar with the core rules. It includes different types of terrain, rules for climbing, mantling, leaping over gaps and covers damage received by falling from heights;
– Killzones: these are environment-specific rules, adding danger and advantages according to the area your miniatures find themselves in. This section includes Sector Imperialis rules, which are designed for use with the scenery found in the box;
– Missions: this section introduces 3 Open, 4 Matched and 4 Narrative play missions, showing you how to pick and choose elements from each to create your own games, the way you want to play them. It includes details of the Scouting Phase, in which planning, preparing and luck can dictate the direction of the battle to be fought. Each included mission features advice on selecting your teams, setup, deployment and victory conditions;
– Kill Teams: this section takes you through building your kill team in a thorough and easy to follow manner, covering Open, Matched and Narrative play-specific teams;
– Command Points: Matched play kill teams can be Battle-forged – this section describes the tactics specific to these teams;
– Specialists: these are experienced fighters with certain abilities, split into 9 disciplines: Leader, Combat, Comms, Demolitions, Heavy, Medic, Scout, Sniper, Veteran and Zealot, each featuring 3 exclusive Tactics. These Tactics are increasingly powerful, and are unlocked by acquiring experience during a campaign;
– Background information for each of the following factions: Adeptus Astartes, Deathwatch, Grey Knights, Astra Militarum, Adeptus Mechanicus, Heretic Astartes, Death Guard, Thousand Sons, Asuryani, Drukhari, Harlequins, Necrons, Orks, T'au Empire, Tyranids, and Genestealer Cults. This section can be used to add character to your kill team, with name and characteristic generators, faction-specific Tactics, and even quirks for each of your squad members. Each faction also features datasheets and comprehensive wargear tables with points lists and abilities.
Campaigns
Kill Team can be played and enjoyed in one-off missions, but included are a suite of comprehensive optional rules for fighting multiple battles in a connected series, forming a narrative of covert battles fought alongside a greater war. This section of the book walks you through a Kill Team campaign: the victory conditions, how to select missions, gain experience and upgrade your team, deal with injuries, manage resources and even escalate conflict. This includes blank command rosters and datasheets which you can photocopy and use to keep track of your campaign.
On top of all this is a miniatures showcase, brimming with inspirational photos of kill teams and battle scenes.
Miniatures
2 complete multi-part plastic kill teams are included, from the Adeptus Mechanicus and Genestealer Cults factions, along with a huge collection of Imperial scenery:
– 10 Genestealer Cult Neophyte Hybrids armed with autoguns, autopistols and blasting charges. Any model can replace their autogun with a shotgun – 10 are included – and 2 models can take special weapons chosen from a seismic cannon, heavy stubber or mining laser. 1 model can be upgraded to a Neophyte Leader, armed with either a web pistol, autopistol or bolt pistol and a chainsword, power pick or close combat weapon, and 1 model can take a Cult icon;
– 10 Skitarii Rangers armed with arc rifles, including options for an Alpha armed with either a radium or arc pistol and a close combat weapon (either a power sword, taser goad or arc maul). Optionally, you can assemble these as 10 Skitarii Vanguard armed with radium carbines – whichever you choose, 3 models can carry special weapons – available to you are a transuranic arquebus, an arc rifle and a plasma caliver, the last of which includes a specific head and backpack;
– 2 8-page booklets covering these kill teams, featuring background, painted examples and a timeline of their history;
– 3 frames of Sector Imperialis buildings, each making 3 sections of ruins featuring shattered window sections, broken columns and pipework;
– 2 frames of ruins and floors: each contains 1 ruined corner piece section, 3 sections of broken floor, 1 section of unbroken floor, 1 small broken column, 4 small broken floor sections, 1 top piece, 2 support arches, 2 lamps which plug into the underside of the floor sections and 1 small circular lamp;
– 2 frames of walls and windows: each contains 4 complete wall sections, along with 4 columns, 1 ruined column top piece, 2 column top pieces, a vent and 2 small lamps;
– 1 frame of columns: 4 complete columns, 1 large archway, 2 support arches, 2 small lamps, 4 top pieces for the columns and 2 small broken floor sections.
Tactics Cards
Included for easy reference are the following small-format tactics cards:
– 36 Universal Tactics cards which can be used by any kill team;
– 10 Adeptus Mechanicus Tactics cards, usable exclusively by that faction;
– 12 Genestealer Cults Tactics cards, usable exclusively by that faction;
– 10 Adeptus Mechanicus and 10 Genestealer Cults datacards for reference during your games, with 10 blank datacards supplied for building your own custom kill teams.
Also supplied are a double-sided gaming board measuring 22" x 30" with a Sector Imperialis city layout on both sides, 6 x D6, 2 x D10, a clear plastic 12" range ruler, a selection of gaming tokens themed around the Adeptus Mechanicus and Genestealer Cults.