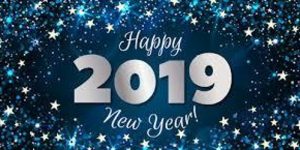 Usher in 2019 at Comic Book World with our Annual Sale!
This New Year's Day we are doing something New. 
Enjoy DOUBLE SPREE STAMPS on all your purchases for One Day Only.
Our Shopping Spree Card is already an incredible way to save on every purchase you make and on January 1st it is Doubly Good!
On January 1st will be open from 11am to 4pm.
Net Priced Items receive No Further Discount.
NEW COMICS FOR 1/2/19
ACTION COMICS #1006
ACTION COMICS #1006 VAR ED
AMAZING SPIDER-MAN #9 2ND PTG RAMOS VAR
ARCHIE #701 CVR A SAUVAGE
ARCHIE #701 CVR B BARTEL
ARCHIE 1941 #4 (OF 5) CVR A KRAUSE
ARCHIE 1941 #4 (OF 5) CVR B LAM
ARCHIE 1941 #4 (OF 5) CVR C SMITH
ASPEN VISIONS IRIS MIDST OF CHAOS #1 (OF 3) CVR A TRAN
ASPEN VISIONS IRIS MIDST OF CHAOS #1 (OF 3) CVR B GUNNELL
AVENGERS #10 2ND PTG MCGUINNESS VAR
AVENGERS TP KREE SKRULL WAR NEW PTG
BATGIRL #30
BATGIRL #30 VAR ED
BATMAN BEYOND #27
BATMAN BEYOND #27 VAR ED
BATMAN BY NEAL ADAMS TP BOOK 02
BATMAN SHADOW THE MURDER GENIUSES TP
BETTY & VERONICA JUMBO COMICS DIGEST #269
BLACK KNIGHT #3 (OF 5) CVR B RICHARDSON
BLACK KNIGHT #3 (OF 5) CVR D RIVEIRO
BOOKS OF MAGIC #3 (MR)
BPRD DEVIL YOU KNOW #12
CARSON OF VENUS #2 PIRATES OF VENUS MAIN CVR
CELLIES #6
CHAMPIONS #1
CHAMPIONS #1 NOTO MARVEL 80TH VAR
CONAN READER TP
CONAN THE BARBARIAN #1
CONAN THE BARBARIAN #1 ASRAR PARTY SKETCH VAR
CONAN THE BARBARIAN #1 CASSADAY VAR
CONAN THE BARBARIAN #1 FAGAN VAR
CONAN THE BARBARIAN #1 RIBIC TEASER VAR
CONAN THE BARBARIAN #1 SAIZ VAR
CONAN THE BARBARIAN #1 ZAFFINO VAR
CROWDED #6 CVR B FRANQUIZ
DAREDEVIL #609 2ND PTG NOTO VAR
DAREDEVIL #610 2ND PTG NOTO VAR
DAREDEVIL #611 2ND PTG NOTO VAR
DARK DAYS ROAD TO METAL TP
DC PREVIEWS #9 JANUARY 2019
DEADPOOL #8
DEADPOOL #8 JAMAL CAMPBELL GOTG VAR
DEADPOOL SKOTTIE YOUNG TP VOL 01 MERCIN HARD FOR MONEY
DEATH OF CAPTAIN MARVEL TP NEW PTG
DEATH OF INHUMANS TP
DETECTIVE COMICS #995
DETECTIVE COMICS #995 VAR ED
DINOSAUCERS #5
ERRAND BOYS #4 (OF 5)
FAITH DREAMSIDE #1 (OF 4) CVR A SAUVAGE
FANTASTIC FOUR #3 2ND PTG PICHELLI VAR
FLASH #61
FLASH #61 VAR ED
GASOLINA #14 (MR)
HAL JORDAN & THE GLC TP VOL 07 DARKSTARS RISING
HALO LONE WOLF #1 (OF 4)
HEAVY METAL #292 CVR A ENGLISH (MR)
HEAVY METAL #292 CVR B TBD (MR)
HEAVY METAL #292 CVR C TBD (MR)
HELLINA RAVENING #2 (MR)
HEROES IN CRISIS #4 (OF 9)
HEROES IN CRISIS #4 (OF 9) VAR ED
HEX WIVES #3 (MR)
IMMORTAL HULK #11
IMMORTAL HULK #11 NOTO MARVEL 80TH VAR
INFINITY WARS INFINITY #1
INJUSTICE VS THE MASTERS OF THE UNIVERSE #6 (OF 6)
INVADER ZIM #38 CVR A
JOHN CARPENTER TALES OF SCI FI TWITCH #1 (OF 5) (MR)
JUGHEAD THE HUNGER #11 CVR A GORHAM (MR)
JUGHEAD THE HUNGER #11 CVR B JARRELL (MR)
JUGHEAD THE HUNGER #11 CVR C SMITH (MR)
JUSTICE LEAGUE ODYSSEY #4
JUSTICE LEAGUE ODYSSEY #4 VAR ED
KICK-ASS #8 CVR A FRUSIN (MR)
KILLMONGER #3 (OF 5)
KNIGHTS OF THE GOLDEN SUN #2
LOST IN SPACE COUNTDOWN TO DANGER GN VOL 01 PX PHOTO CVR
MAGIC ORDER #5 (OF 6) CVR B B&W COIPEL (MR)
MARVEL KNIGHTS 20TH #5 (OF 6)
MARVEL KNIGHTS 20TH #5 (OF 6) ANDREWS CONNECTING VAR
MARVEL PREVIEWS VOL 04 #18 JANUARY 2019
MARVEL TALES FANTASTIC FOUR #1
MIDDLEWEST #1 2ND PTG (MR)
MR AND MRS X #7
MSH ADVENTURES SPIDER-MAN ACROSS SPIDER-VERSE #1
NICE #2 (OF 4) CVR A RENE (MR)
NICE #2 (OF 4) CVR B MACK (MR)
OLD LADY HARLEY #3 (OF 5)
OLIVIA TWIST #4 (MR)
POKEMON SUN & MOON GN VOL
POP MARVEL STUDIOS 10 IRON MAN VINYL FIG
POWERS TP BOOK 02 NEW ED (MR)
PREVIEWS #364 JANUARY 2019
PROJECT SUPERPOWERS #5 CVR A MATTINA
PROJECT SUPERPOWERS #5 CVR B BENES
PROJECT SUPERPOWERS #5 CVR C ROYLE
PROJECT SUPERPOWERS #5 CVR D TAN
RAINBOW BRITE #3 CVR A GANUCHEAU
RAVEN DAUGHTER OF DARKNESS #11 (OF 12)
REDNECK #18 (MR)
RETURN OF WOLVERINE #2 (OF 5) 2ND PTG SHALVEY VAR
REVENGE OF WONDERLAND #6 (OF 6) CVR B OTERO
REVENGE OF WONDERLAND #6 (OF 6) CVR C BURGOS
RICK & MORTY #45 CVR A
RICK & MORTY #45 CVR B HARVEY VAR
ROAD OF THE DEAD HIGHWAY TO HELL #2 CVR B MOSS
RING OF NIBELUNG TP
RUNAWAYS #17
SAVAGE DRAGON #241 (MR)
SCARLET #5 (OF 5) (MR)
SCOOBY DOO TEAM UP #45
SHADOW DOUBLE NOVEL VOL 136 WEALTH SEEKER GUARDIAN OF DEATH
SHATTERSTAR #4 (OF 5)
SILENCER #12
SPIDER-GEDDON #3 (OF 5) 2ND PTG BARBERI VAR
SPIDER-GEDDON TP EDGE OF SPIDER-GEDDON
STAR WARS AOR OBI-WAN KENOBI #1
STAR WARS AOR OBI-WAN KENOBI #1 MCCAIG CONCEPT VAR
STAR WARS AOR OBI-WAN KENOBI #1 MCKONE PUZZLE PC VAR
STAR WARS AOR OBI-WAN KENOBI #1 MOVIE VAR
STAR WARS AOR OBI-WAN KENOBI #1 RAHZZAH VAR
STAR WARS AOR OBI-WAN KENOBI #1 YU HEROES VAR
STAR WARS HAN SOLO IMPERIAL CADET #3 (OF 5)
STRANGER THINGS #4 CVR A BRICLOT
STRANGER THINGS #4 CVR B BARTEL
STRANGER THINGS #4 CVR C YOUNG
STRANGER THINGS #4 CVR D SATTERFIELD PHOTO VAR
SUPERMAN KRYPTONITE DELUXE ED HC
SWORD DAUGHTER #5 CVR A OLIVER
TERRIFICS #11
TITANS #32
TITANS #32 VAR ED
TONY STARK IRON MAN #7
TONY STARK IRON MAN #7 UNCANNY X-MEN VAR
TONY STARK IRON MAN TP VOL 01 SELF MADE MAN
TRUE BELIEVERS CONAN THE BARBARIAN #1
TRUE BELIEVERS CONAN TOWER OF ELEPHANT #1
UMBRELLA ACADEMY HOTEL OBLIVION #4 CVR A BA
UMBRELLA ACADEMY HOTEL OBLIVION #4 CVR B BA
UNCANNY X-MEN #1 2ND PTG ASRAR VAR
UNCANNY X-MEN #8
UNCANNY X-MEN #8 CHRISTOPHER ACTION FIGURE VAR
UNCANNY X-MEN #8 MARQUEZ GOTG VAR
UNNATURAL #6 (OF 12) CVR A ANDOLFO (MR)
UNNATURAL #6 (OF 12) CVR B TARR (MR)
VENOM #8 2ND PTG COELLO VAR
WALKING DEAD #187 (MR)
WHISPERING DARK #3
WINTER SOLDIER #2
WOLVERINE LONG NIGHT ADAPTATION #1 (OF 5)
WONDER WOMAN #61
WONDER WOMAN #61 VAR ED