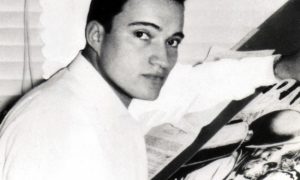 Legendary cartoonist Russ Heath passed away on August 23 at the age of 91. Heath's passing was confirmed via Twitter by his grandson, Lee Kosa.
Born September 26, 1926, Heath began working in comics while still in high school, contributing to Hammerhead Hawley stories in Holyoke Publishing's Captain Aero Comics. After a short stint in the Air Force, Heath eventually landed a staff gig at Marvel-precursor Timely Comics in 1947. He initially drew Westerns for Timely, including stories for Two-Gun Kid, Kid Colt Outlaw, Wild Western, All Western Winners, Black Rider, and more. His oeuvre extended into superhero, science fiction, horror, and other genres, but his work on war comics brought him the most notoriety.
For several decades, Heath worked on combat comics, notably for DC Comics' Frontline Combat, Our Army at War, Star Spangled War Stories, G.I. Combat, and All-American Men of War. Several of Heath's panels in the last were appropriated without accreditation or acknowledgement by painter Roy Lichtenstein for a series of oil paintings. Heath also contributed to Warren Publishing's Blazing Combat and was well known for meticulous authenticity.
Heath was also a regular contributor to Harvey Kurtzman and Will Elder's Playboystrip, Little Annie Fanny, and he partnered with writer Cary Bates on a syndicated Lone Ranger strip that ran in the early 1980s. His last comic book story was published in 2009's The Immortal Iron Fist #20 from Marvel Comics, and his last published work was a one-page illustration in Dave Sim's glamourpuss #19 (2011).
Heath won an Inkpot Award in 1997 and was inducted into the Eisner Hall of Fame in 2009 (see "2009 Eisner Award Winners"). He received the National Cartoonist Society's Milton Caniff Lifetime Achievement Award in 2014 and the Hero Initiative Lifetime Achievement Award during the 2015 Harveys (see "2015 Harvey Award Winners").