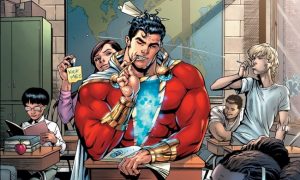 Shazam! is due in theaters early next year, so DC is priming the pump with a new monthly and the rerelease of classic Captain Marvel stories.
Captain Marvel returns to a solo monthly for the first time in nearly two decades with Shazam! #1 from writer Geoff Johns and artist Dale Eaglesham (see "There's a 'Stargirl' Waiting in DC Universe"). In the series, teenager Billy Baston juggles the responsibilities of school and being a superhero as his alter ego unlocks a world-changing secret. The series includes a backup story from Sen. The 40-page first issue has a variant cover by Gary Frank and a blank variant. It is on sale November 21 and has an MSRP of $4.99.
The Last Son of Krypton and Earth's Mightiest Mortal meet in Superman / Shazam: First Thunder Deluxe Edition hardcover. The story from writer Judd Winick and artist Joshua Middleton, which involves larcenous cults and giant robots, is collected in hardcover fro the first time on December 12. The 136-page volume has an MSRP of $29.99.
Shazam!: Power of Hope collects Alex Ross and Paul Dini's award winning tale in hardcover for the first time. Billy Baston receives a letter from a terminally ill boy, so he sets out as his alter ego Captain Marvel to bring hope to the children in the ward. The 72-page hardcover is on sale April 17, 209, for an MSRP of $17.99.
Zacahary Levi stars in the cinematic take on Shazam!, which will be in theaters on April 5, 2019 (see "Best in Shows—Q2 2019"). Warner Bros. released the first teaser trailer for the film during San Diego Comic-Con (see "'Shazam' Trailer Promises Superhero Fun").