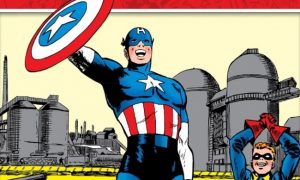 Marvel Entertainment will publish eight trade paperback volumes celebrating the company's 80th anniversary in 2019, beginning in January.  The titles of four volumes were revealed in the initial announcement:
Decades: Marvel in the '40s – The Human Torch vs. the Sub-Mariner
Decades: Marvel in the '50s – Captain America Strikes!
Decades: Marvel in the '60s – Spider-Man Meets the Marvel Universe
Decades: Marvel in the '70s — Legion of Monsters
Each collection will include classic comics from the era, plus decade-by-decade commentary on the evolution of the Marvel Universe and the world that inspired it.  The other four titles will be announced at a later date.