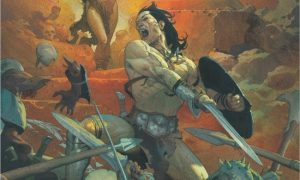 Marvel Comics announced its new Conan The Barbarianseries will launch in January and named the creative team.
Conan The Barbarian will be written by Jason Aaron (Scalped, Southern Bastards), with art by Mahmud Asrar (X-Men Red, Cloak and Dagger). The cover for issue #1 will be drawn by Esad Ribic (Fantastic Four, Secret Wars). Story details and specific launch date were not announced.
Marvel announced a new deal with Conan Properties International in January, kicking off in 2019 (see "Conan Returns to Marvel"). Marvel had published many comics based on Robert E. Howard's characters from 1970 – 2000. Dark Horse acquired the comic rights to the Cimmerian barbarian in the early 2000s (see "Dark Horse To Publish Conan Comic").