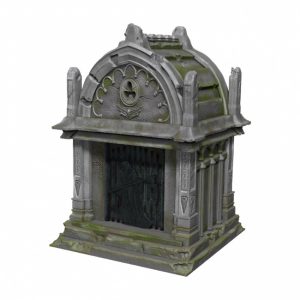 Next year's offerings for WizKids' Pathfinder Battlesseries will get off to a spooky start with the Pathfinder Battles:  Ruins of Lastwall and Cemetery of the Fallen Premium Set, both releasing in April.
Heroes and villains from the crusader nation of Lastwall will be the focus of the Pathfinder Battles:  Ruins of Lastwall set of pre-painted plastic miniatures.  The 44 figures in the set include a devout Lastwall Knight, a cunning Skeletal Samurai, and even the frightening Time Dragon, as well as other allies and enemies suitable for any role-playing game, especially those set in the Pathfinder world.
Ruins of Lastwall will be packaged in Standard Boosters, each with 1 large figure and 3 medium or small figures, at an MSRP of $15.99 each.  Standard Boosterswill be sold as Standard 8 Ct. Booster Bricks with a total of 32 figures, with a case-pack of 4 Standard Bricks (a total of 128 figures per case).  Some random Boosterswill feature rare "dungeon dressing" minis.
WizKids is also offering the Pathfinder Battles:  Ruins of Lastwell – Cemetery of the Fallen Premium Set, which will feature two gravestones, a mausoleum, and other graveyard scenery elements suitable for display or use as terrain features.  The Cemetery of the Fallen Premium Set will be produced in limited quantities.  MSRP is $49.99