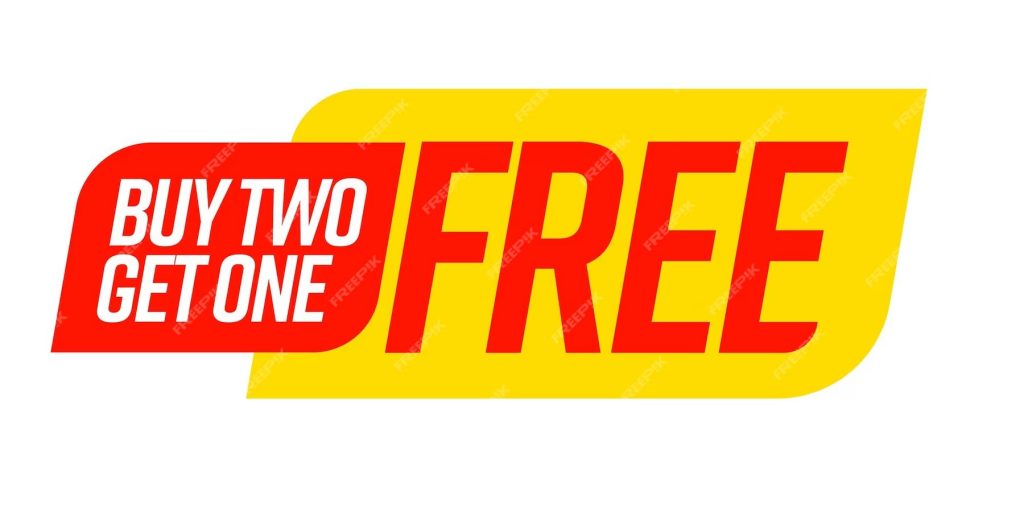 New Comics for 11/22/23:
Our Black Friday Buy 2 Get 1 Free Sale Starts Wednesday the 22nd and goes thru Sunday the 26th!!
Buy 3 items from the Board Games, Graphic Novels, and Roleplaying Game Book categories and get the least expensive Item Free!
You can even Mix and Match!
No further discounts apply and Spree Stamps will not be given.
The Sale is Limited to in stock items only.
The Following Items were Shorted Last Week:
ALIEN 1
ALIEN 1 IAN BERTRAM VARIANT
ALIEN 1 MIGUEL MERCADO VARIANT
ALIEN 1 MIKE MAYHEW VARIANT [1:25]
ALPHA FLIGHT 4 [FALL]
ALPHA FLIGHT 4 RON LIM HOMAGE VARIANT [FALL]
ASTONISHING ICEMAN 4 [FALL]
BLADE 5
CAPWOLF & THE HOWLING COMMANDOS 2
CHILDREN OF THE VAULT 4 [FALL]
DAREDEVIL 3
DAREDEVIL 3 ADI GRANOV VARIANT [1:25]
DAREDEVIL 3 DUSTIN NGUYEN KNIGHT'S END VARIANT
DAREDEVIL 3 JOSHUA CASSARA VARIANT
DARK X-MEN 4 [FALL]
DARK X-MEN 4 NICOLETTA BALDARI VARIANT [FALL]
FANTASTIC FOUR 13
FANTASTIC FOUR 13 ALEX MALEEV KNIGHT'S END VARIANT
FANTASTIC FOUR 13 MARTIN COCCOLO STORMBREAKERS VARIANT
GHOST RIDER 20
GHOST RIDER 20 ELIZABETH TORQUE VARIANT [1:25]
GHOST RIDER 20 PAUL AZACETA KNIGHT'S END VARIANT
GHOST RIDER 20 ROY BONEY HERITAGE VARIANT
IMMORTAL THOR 2 MARTIN COCCOLO 2ND PRINTING VARIANT
IMMORTAL THOR 4
IMMORTAL THOR 4 LEINIL YU KNIGHT'S END VARIANT
IMMORTAL THOR 4 MAURO CASCIOLI AVENGERS 60TH VARIANT
IMMORTAL THOR 4 SERGIO DAVILA VARIANT [1:25]
INVINCIBLE IRON MAN 10 LUCAS WERNECK 2ND PRINTING VARIANT [FALL]
JEAN GREY 4 [FALL]
RED GOBLIN 10
SILVER SURFER REBIRTH: LEGACY 3
SILVER SURFER REBIRTH: LEGACY 3 KIM JACINTO VARIANT
SPINE-TINGLING SPIDER-MAN 2
SPINE-TINGLING SPIDER-MAN 2 BJORN BARENDS VARIANT [1:25]
SPINE-TINGLING SPIDER-MAN 2 CHRIS ALLEN STORMBREAKERS VARIANT
STAR WARS: DARK DROIDS 4 [DD]
STAR WARS: DARK DROIDS 4 BJORN BARENDS VARIANT [DD] [1:50]
STAR WARS: DARK DROIDS 4 JOHN TYLER CHRISTOPHER ACTION FIGURE VARIANT [DD]
STAR WARS: DARK DROIDS 4 KEN LASHLEY VARIANT [DD]
STAR WARS: DARK DROIDS 4 RACHAEL STOTT SCOURGED VARIANT [DD]
STAR WARS: DOCTOR APHRA 38 [DD]
STAR WARS: DOCTOR APHRA 38 STEFANO RAFFAELE VARIANT [DD] [1:25]
STAR WARS: RETURN OF THE JEDI – THE 40TH ANNIVERSARY COVERS BY CHRIS SPROUSE 1
STAR WARS: RETURN OF THE JEDI – THE 40TH ANNIVERSARY COVERS BY CHRIS SPROUSE 1 MOVIE POSTER VARIANT
STAR WARS: THE MANDALORIAN SEASON 2 6
STAR WARS: THE MANDALORIAN SEASON 2 6 ALEX MALEEV VARIANT [1:25]
STAR WARS: THE MANDALORIAN SEASON 2 6 CONCEPT ART VARIANT
STAR WARS: THE MANDALORIAN SEASON 2 6 JOHN MCCREA VARIANT
STAR WARS: VISIONS – PEACH MOMOKO 1
STAR WARS: VISIONS – PEACH MOMOKO 1 GIUSEPPE CAMUNCOLI VARIANT
STAR WARS: VISIONS – PEACH MOMOKO 1 STAN SAKAI VARIANT
STAR WARS: VISIONS – PEACH MOMOKO 1 TAKASHI OKAZAKI VARIANT [1:25]
SUPERIOR SPIDER-MAN 1 AURANTIA SUIT MARVEL'S SPIDER-MAN 2 VARIANT
SUPERIOR SPIDER-MAN 1 AURANTIA SUIT MARVEL'S SPIDER-MAN 2 VARIANT
SUPERIOR SPIDER-MAN 1 DOALY VARIANT [1:50]
SUPERIOR SPIDER-MAN 1 HUMBERTO RAMOS VARIANT
SUPERIOR SPIDER-MAN 1 HUMBERTO RAMOS VARIANT
SUPERIOR SPIDER-MAN 1 SKOTTIE YOUNG VARIANT
SUPERIOR SPIDER-MAN 1 SKOTTIE YOUNG VARIANT
The Oddly Pedestrian Life of Christopher Chaos #5 (CVR A) (Nick Robles)
The Oddly Pedestrian Life of Christopher Chaos #5 (CVR B) (Nick Robles)
The Oddly Pedestrian Life of Christopher Chaos #5 (CVR D) (Virgin) (FOC) (Phil Jimenez)
UNCANNY AVENGERS 4 [FALL]
UNCANNY AVENGERS 4 CORY SMITH VARIANT [FALL] [1:25]
UNCANNY AVENGERS 4 MATTEO SCALERA VARIANT [FALL]
UNCANNY AVENGERS 4 ROB LIEFELD VARIANT [FALL]
And Finally the New Comics for 11/22/23:
AL CAPONE VAMPIRE #2 CVR A LOPRESTI
AL CAPONE VAMPIRE #2 CVR B HOMAGE FRAIM
AL CAPONE VAMPIRE #2 CVR C NELMS
AMAZING SPIDER-MAN 38 [GW]
AMAZING SPIDER-MAN 38 DIKE RUAN VARIANT [GW] [1:25]
AMAZING SPIDER-MAN 38 STEVE SKROCE VARIANT [GW]
AMAZING SPIDER-MAN 38 STONE MONKEY SUIT MARVEL'S SPIDER-MAN 2 VARIANT [GW]
AMAZING SPIDER-MAN 38 VALERIO GIANGIORDANO KNIGHT'S END VARIANT [GW]
ArkhaManiacs (New Edition)
ARKHAMANIACS TP (2023 EDITION)
AVENGERS INC. 3
AVENGERS INC. 3 RICKIE YAGAWA VARIANT
AVENGERS INC. 3 RON SALA AVENGERS 60TH VARIANT
BAD OMENS CONCRETE JUNGLE #3 (OF 4) CVR A IZZO (MR)
BAD OMENS CONCRETE JUNGLE #3 (OF 4) CVR B FIORELLI (MR)
BAD OMENS CONCRETE JUNGLE #3 (OF 4) CVR C ADILETTO (MR)
BAD OMENS CONCRETE JUNGLE #3 (OF 4) CVR D 5 COPY INCV (MR)
BATMAN (2020) TP VOL 02 THE JOKER WAR
BATMAN (2020) TP VOL 03 GHOST STORIES
BATMAN HARLEY AND IVY TP (2023 EDITION)
BATMAN OFF-WORLD #1 (OF 6) CVR A DOUG MAHNKE
BATMAN OFF-WORLD #1 (OF 6) CVR B LESLEY LEIRIX LI CARD STOCK VAR
BATMAN OFF-WORLD #1 (OF 6) CVR C DAVID FINCH CARD STOCK VAR
BATMAN OFF-WORLD #1 (OF 6) CVR D INC 1:25 BEN OLIVER CARD STOCK VAR
BATMAN SUPERMAN WORLDS FINEST #21 CVR A DAN MORA
BATMAN SUPERMAN WORLDS FINEST #21 CVR B BRYAN HITCH CARD STOCK VAR
BATMAN SUPERMAN WORLDS FINEST #21 CVR C CRYSTAL KUNG DC HOLIDAY CARD SPECIAL EDITION VAR
BATMAN SUPERMAN WORLDS FINEST #21 CVR D HUSH SUPERMAN MCFARLANE TOYS ACTION FIGURE CARD STOCK VAR
BATMAN YEAR ONE DELUXE SC
Batman: Harley and Ivy
Berserk Deluxe Volume 14
BONE ORCHARD TENEMENT #6 (OF 10) CVR A SORRENTINO
BONE ORCHARD TENEMENT #6 (OF 10) CVR B CHRISTIAN WARD VAR
BROODING MUSE #5 (C: 0-0-1)
Brynmore #5 Cover A (Damien Worm)
Brynmore #5 Variant B (Snook)
BRZRKR FALLEN EMPIRE CVR L LCSD FOIL VAR FRISON (MR)
CAPTAIN MARVEL 2
CAPTAIN MARVEL 2 JEN BARTEL DESIGN VARIANT [1:10]
CAPTAIN MARVEL 2 JOSHUA SWABY VARIANT
CAPTAIN MARVEL 2 KENDRICK LIM CAPTAIN MARVEL VARIANT
CAPTAIN MARVEL 2 LUCAS WERNECK STORMBREAKERS VARIANT
CAPTAIN MARVEL 2 MCU VARIANT
CAPTAIN MARVEL 2 ROD REIS KNIGHT'S END VARIANT
CAPTAIN MARVEL 2 STEPHANIE HANS VARIANT [1:25]
CARNAGE 1
CARNAGE 1 DECLAN SHALVEY VARIANT
CARNAGE 1 GABRIELE DELL'OTTO FOIL VARIANT
CARNAGE 1 MARCO MASTRAZZO VARIANT [1:25]
CARNAGE 1 PAULO SIQUIERA VIRGIN VARIANT [1:50]
CARNAGE 1 PERE PEREZ VARIANT
CARNAGE 1 ROSE BESCH VARIANT
CATWOMAN #59 CVR A DAVID NAKAYAMA
CATWOMAN #59 CVR B TIRSO CONS CARD STOCK VAR
CATWOMAN #59 CVR C JORGE FORNES CARD STOCK VAR
CREED TP (C: 0-1-2)
CRUSADER #3 (OF 4) (MR)
Cyberpunk 2077: XOXO #2 (CVR A) (Jakub Rebelka)
Cyberpunk 2077: XOXO #2 (CVR B) (Jeffrey Alan Love)
Cyberpunk 2077: XOXO #2 (CVR C) (Fabrizio De Tommaso)
Cyberpunk 2077: XOXO #2 (CVR D) (Rion Chow)
D&D RPG PLANESCAPE ADV IN MULTIVERSE ALT HC (C: 0-1-2)
DANNY KETCH: GHOST RIDER – BLOOD & VENGEANCE
DAREDEVIL & ECHO
DAREDEVIL: BLACK ARMOR 1
DAREDEVIL: BLACK ARMOR 1 GUSTAVO DUARTE HOWARD THE DUCK VARIANT
DAREDEVIL: BLACK ARMOR 1 KEN LASHLEY VARIANT
DAREDEVIL: BLACK ARMOR 1 PAULO SIQUEIRA FOIL VARIANT
DAREDEVIL: BLACK ARMOR 1 RAFAEL GRASSETTI VARIANT [1:25]
Dark Spaces: Good Deeds #6 Cover A (Ramsay)
Dark Spaces: Good Deeds #6 Variant B (Beals)
DARKLING ONESHOT CVR A MARIA SANAPO
DARKLING ONESHOT CVR B DAVID MACK
DEADPOOL BY ALYSSA WONG VOL. 2
DISENCHANTMENT UNTOLD TALES GN VOL 01 (OF 2) (MR) (C: 0-1-2)
DISNEY VILLAINS HADES #4 CVR A DARBOE
DISNEY VILLAINS HADES #4 CVR B LEE
DISNEY VILLAINS HADES #4 CVR C FORSTNER
DISNEY VILLAINS HADES #4 CVR D TOMASELLI
DISNEY VILLAINS HADES #4 CVR E ACTION FIGURE
DISNEY VILLAINS HADES #4 CVR F 10 COPY INCV LEE LINE ART
Dungeons & Dragons Library Collection, Vol. 1
ElfQuest: Stargazer's Hunt Complete Edition
EXPANSE THE DRAGON TOOTH #7 (OF 12) CVR A WARD
EXPANSE THE DRAGON TOOTH #7 (OF 12) CVR B ZONJIC
FIRE FORCE OMNIBUS GN VOL 07 VOL 19-21 (C: 0-1-2)
From the World of Minor Threats: The Alternates #3 (CVR A) (Scott Hepburn)
From the World of Minor Threats: The Alternates #3 (CVR B) (Leonardo Romero)
GENESIS II #2 (OF 6) (MR)
GFT 2023 ARMED FORCES APPRECIATION CVR A REYES
GFT 2023 ARMED FORCES APPRECIATION CVR B IGOR VITORINO
GFT 2023 ARMED FORCES APPRECIATION CVR C IGNACIO NOE
GFT 2023 ARMED FORCES APPRECIATION CVR D TINA VALENTINO
GREEN LANTERN WAR JOURNAL #3 CVR A MONTOS
GREEN LANTERN WAR JOURNAL #3 CVR B RAHZZAH CARD STOCK VAR
GUNBREED #3 (OF 5) CVR A HERNAN GONZALEZ & JUAN GUTIERREZ
GUNBREED #3 (OF 5) CVR B NICOLAS GIACONDINO
GUNSLINGER SPAWN #26 CVR A ZE CARLOS CARDSTOCK
GUNSLINGER SPAWN #26 CVR B GABRIEL GÓMEZ VAR
HACK SLASH BACK TO SCHOOL #2 (OF 4) CVR A ZOE THOROGOOD
HACK SLASH BACK TO SCHOOL #2 (OF 4) CVR B EPHK VAR
HARLEY QUINN BLACK WHITE REDDER #5 (OF 6) CVR A SANA TAKEDA
HARLEY QUINN BLACK WHITE REDDER #5 (OF 6) CVR B WARREN LOUW VAR
HARLEY QUINN BLACK WHITE REDDER #5 (OF 6) CVR C INC 1:25 DAVID NAKAYAMA VAR
HARRIET TUBMAN DEMON SLAYER #3 CVR A WHITE (MR)
HARRIET TUBMAN DEMON SLAYER #3 CVR B BARNA EVIL DEAD HOMAGE
HARRIET TUBMAN DEMON SLAYER #3 CVR C VASSALLO (MR)
HAWKGIRL #5 (OF 6) CVR A AMANCAY NAHUELPAN
HAWKGIRL #5 (OF 6) CVR B DERRICK CHEW CARD STOCK VAR
HELLICIOUS #1 CVR A WALLIS (MR)
HELLICIOUS #1 CVR C RICHARDSON VIDEO GAME HOMAGE (MR)
HOLY ROLLER #1 CVR A ROLAND BOSCHI
HOLY ROLLER #1 CVR B JH WILLIAMS III VAR
HOLY ROLLER #1 CVR C INC 1:10 BRETT PARSON VAR
HOLY ROLLER #1 CVR D INC 1:15 KERON GRANT VAR
HOLY ROLLER #1 CVR E INC 1:20 BRIAN LEVEL VAR
HOLY ROLLER #1 CVR F INC 1:25 MIKE HAWTHORNE VAR
IMMORTAL X-MEN 17 [FALL]
IMMORTAL X-MEN 17 PEPE LARRAZ X-MEN 60TH VARIANT [FALL]
IMMORTAL X-MEN 17 PHIL NOTO QUIET COUNCIL VARIANT [FALL]
INCREDIBLE HULK 6
INCREDIBLE HULK 6 DERRICK CHEW KNIGHT'S END VARIANT
INCREDIBLE HULK 6 MR GARCIN VARIANT
INCREDIBLE HULK 6 NIC KLEIN WRAPAROUND VARIANT
INCREDIBLE HULK 6 SALVADOR LARROCA VARIANT [1:25]
INDIGO CHILDREN TP VOL 01
INEBRIO HORSEFEATHERS IN SCAMPER JUICE #1 FIRST PTG
INVINCIBLE IRON MAN 12 [FALL]
INVINCIBLE IRON MAN 12 JOHN TYLER CHRISTOPHER AVENGERS 60TH VARIANT [FALL]
JAY GARRICK THE FLASH #2 (OF 6) CVR A JORGE CORONA
JAY GARRICK THE FLASH #2 (OF 6) CVR B FRANCIS MANAPUL CARD STOCK VAR
JUSTICE LEAGUE VS GODZILLA VS KONG #1 Second Printing
JUSTICE LEAGUE VS GODZILLA VS KONG #2 (OF 7) CVR A DREW JOHNSON
JUSTICE LEAGUE VS GODZILLA VS KONG #2 (OF 7) CVR B DAVID NAKAYAMA WONDER WOMAN CONNECTING CARD STOCK VAR
JUSTICE LEAGUE VS GODZILLA VS KONG #2 (OF 7) CVR C DAVID NAKAYAMA BATMAN CONNECTING CARD STOCK VAR
JUSTICE LEAGUE VS GODZILLA VS KONG #2 (OF 7) CVR D INC 1:25 FRANCESCO MATTINA CARD STOCK VAR
JUSTICE SOCIETY OF AMERICA #7 (OF 12) CVR A MIKEL JANIN
JUSTICE SOCIETY OF AMERICA #7 (OF 12) CVR B YANICK PAQUETTE CARD STOCK VAR
KAPTARA UNIVERSAL TRUTHS #4 (OF 6)
KAYA TP VOL 02
KILL YOUR DARLINGS #3 CVR A BOB QUINN CARDSTOCK
KILL YOUR DARLINGS #3 CVR B RYAN STEGMAN VAR
Killer Queens 2: Kings, Not Wings! #3 (Chris Ables)
LCSD 2023 BLACK SCIENCE #1 10TH ANNIVERSARY DLX EDITION
LCSD 2023 UNIVERSAL MONSTERS DRACULA #1 CONNECTING ALEXANDER
LCSD 2023 UNIVERSAL MONSTERS DRACULA #2 CONNECTING ALEXANDER VAR
LCSD BATMAN OFF-WORLD #1 (OF 6) DOUG MAHNKE VIRGIN VAR
LCSD FACELESS AND THE FAMILY #1 CVR H MATT LESNIEWSKI FOIL VAR Allocations May Occur
Lonely Castle in the Mirror (Manga) Vol. 1
Lunar Lodge #1 (Mirko Colak)
MARVEL MASTERWORKS: WEREWOLF BY NIGHT VOL. 2
MARVEL PREVIEWS 27 [BUNDLE OF 10]
MARVEL PREVIEWS VOL 6 #27 DECEMBER 2023 (BUNDLE OF 10) (NET)
MARVEL SUPER HEROES SECRET WARS: BATTLEWORLD 1
MARVEL SUPER HEROES SECRET WARS: BATTLEWORLD 1 FRANCESCO MOBILI VARIANT [1:25]
MARVEL SUPER HEROES SECRET WARS: BATTLEWORLD 1 JOHN TYLER CHRISTOPHER ACTION FIGURE VARIANT
MARVEL SUPER HEROES SECRET WARS: BATTLEWORLD 1 PAT OLLIFFE VARIANT
MARVEL SUPER HEROES SECRET WARS: BATTLEWORLD 1 RYAN STEGMAN VARIANT
MARVEL SUPER HEROES SECRET WARS: BATTLEWORLD 1 SEAN GALLOWAY SATURDAY MORNING VARIANT
MARVEL SUPER HEROES SECRET WARS: BATTLEWORLD 1 TODD NAUCK CONNECTING VARIANT
Medaka Kuroiwa Is Impervious to My Charms 3
MIGHTY MORPHIN POWER RANGERS #114 CVR A CLARKE (C: 1-0-0)
MIGHTY MORPHIN POWER RANGERS #114 CVR B DARK GRID VAR BAREND
MIGHTY MORPHIN POWER RANGERS #114 CVR C HELMET VAR MONTES (C
MIGHTY MORPHIN POWER RANGERS #114 CVR D 10 COPY INCV BARENDS
MIGHTY MORPHIN POWER RANGERS #114 CVR G FOC REVEAL VAR (C: 1
MIGHTY MORPHIN POWER RANGERS #114 CVR H UNLOCKABLE VAR (C: 1
MONSTRESS TP VOL 08
MOON KNIGHT: CITY OF THE DEAD 5
MOON KNIGHT: CITY OF THE DEAD 5 JAN BAZALDUA STORMBREAKERS VARIANT
Mortal Terror #1 (CVR A) (Peter Bergting)
Mortal Terror #1 (CVR B) (Mike Mignola)
NIGHTWING #108 CVR A BRUNO REDONDO
NIGHTWING #108 CVR B JAMAL CAMPBELL CARD STOCK VAR
NIGHTWING #108 CVR C DAN MORA CARD STOCK VAR
NIGHTWING #108 CVR D MIKE DEODATO JR ARTIST SPOTLIGHT CARD STOCK VAR
NOIR IS THE NEW BLACK LITTLE ROCK FILES #1 CVR A MCGOWAN (C:
ORIGIN 1
PATHFINDER WAKE DEAD #4 CVR A ELLIS
PLOT HOLES #4 (OF 5) CVR A MURPHY (MR)
PLOT HOLES #4 (OF 5) CVR B TRUNNEC (MR)
PLOT HOLES #4 (OF 5) CVR C FARRO (MR)
POISON IVY HC VOL 02 UNETHICAL CONSUMPTION
Poison Ivy Vol. 2: Unethical Consumption
PREVIEWS #423 DEC 2023 RETAILER ORDER FORM EXTRAS (NET)
PREVIEWS #423 DEC 2023 RETAILER ORDER FORM EXTRAS (NET)
PREVIEWS #423 DECEMBER 2023 (NET)
PREVIEWS #423 DECEMBER 2023 (NET)
RANGER ACADEMY #1 CVR H LCSD FOIL EJIKURE (C: 1-0-0)
RICK AND MORTY #11 CVR A MARC ELLERBY (MR)
RICK AND MORTY #11 CVR B FRED C STRESING VAR (MR)
RUMPUS ROOM #3 (OF 5) CVR A TONY HARRIS (MR)
RUMPUS ROOM #3 (OF 5) CVR B KEVIN MAGUIRE & ROSEMARY CHEETHAM VAR (MR)
RUMPUS ROOM #3 (OF 5) CVR C MARK RUSSELL VAR (MR)
SENSATIONAL SHE-HULK 2
SENSATIONAL SHE-HULK 2 DANIEL ACUNA KNIGHT'S END VARIANT
SENSATIONAL SHE-HULK 2 KAARE ANDREWS VARIANT
SENSATIONAL SHE-HULK 2 ROY BONEY HERITAGE VARIANT
SENSATIONAL SHE-HULK 2 TODD NAUCK WINDOWSHADES VARIANT
SLOW BURN #1 (OF 5) 2ND PTG JENKINS
SOMETHING IS KILLING THE CHILDREN #34 CVR T LCSD FOIL VAR
SOMNA #1 (OF 3) CVR A BECKY CLOONAN (MR)
SOMNA #1 (OF 3) CVR B TULA LOTAY VAR (MR)
SOMNA #1 (OF 3) CVR C INC 1:10 JOELLE JONES VAR (MR)
SOMNA #1 (OF 3) CVR F JAE LEE VAR (MR)
SOMNA #1 (OF 3) CVR G TULA LOTAY NSFW POLYBAGGED VAR (MR)
Star Trek #14 Cover A (To)
Star Trek #14 Variant B (Stott)
Star Trek #14 Variant C (Murphy)
STAR WARS: BOUNTY HUNTERS 40 [DD]
STAR WARS: BOUNTY HUNTERS 40 BEN HARVEY VARIANT [DD] [1:25]
STAR WARS: BOUNTY HUNTERS 40 ROD REIS LIFE DAY VARIANT [DD]
STAR WARS: DARK DROIDS – D-SQUAD 3 [DD]
STAR WARS: DARK DROIDS – D-SQUAD 3 JOHN TYLER CHRISTOPHER ACTION FIGURE VARIANT [DD]
STAR WARS: DARK DROIDS – D-SQUAD 3 QT-KT TOM REILLY VARIANT [DD]
Star Wars: Hyperspace Stories #11 (CVR A) (Tom Fowler)
Star Wars: Hyperspace Stories #11 (CVR B) (Cary Nord)
STAR WARS: THE MANDALORIAN – SEASON TWO, PART ONE
SUPERMAN #8 CVR A JAMAL CAMPBELL
SUPERMAN #8 CVR B LEE BERMEJO CARD STOCK VAR
SUPERMAN #8 CVR C JOHN GIANG CARD STOCK VAR
SUPERMAN #8 CVR D JIM LEE DC HOLIDAY CARD SPECIAL EDITION VAR
SUPERMAN #8 CVR E MIKE DEODATO JR ARTIST SPOTLIGHT CARD STOCK VAR
SUPERMAN #8 CVR F INC 1:25 EDWIN GALMON CARD STOCK VAR
Teenage Mutant Ninja Turtles x Stranger Things #1 Director's Cut Cover A (Pe)
Teenage Mutant Ninja Turtles: The Last Ronin #3 (Reissue) Cover A (Escorzas)
The Riddler: Year One
TITANS #5 CVR A NICOLA SCOTT
TITANS #5 CVR B JEN BARTEL CARD STOCK VAR
TITANS #5 CVR C JORGE CORONA CARD STOCK VAR
TITANS #5 CVR D DUSTIN NGUYEN DC HOLIDAY CARD SPECIAL EDITION VAR
TITANS #5 CVR E MIKE DEODATO JR ARTIST SPOTLIGHT CARD STOCK VAR
TITANS BEAST WORLD EVOLUTION #1 (ONE SHOT)
TOY #4 CVR A GANDOLPHO
TOY #4 CVR B GANDOLPHO
TRY AGAIN VOL 01 (MR) (C: 0-1-2)
UNCANNY SPIDER-MAN 4 [FALL]
UNCANNY SPIDER-MAN 4 LEE GARBETT VARIANT [FALL]
UNIVERSAL MONSTERS DRACULA #1 (OF 4) JOELLE JONES Second Printing (MR)
UNIVERSAL MONSTERS DRACULA #2 (OF 4) CVR A MARTIN SIMMONDS
UNIVERSAL MONSTERS DRACULA #2 (OF 4) CVR B FRANCIS MANAPUL VAR
VAN HELSING THE SYNDICATE CVR A VITORINO
VAN HELSING THE SYNDICATE CVR B GUILLERMO FAJARDO
VAN HELSING THE SYNDICATE CVR C CEDRIC POULAT
VAN HELSING THE SYNDICATE CVR D GEEBO VIGONTE
VOID RIVALS #6 CVR A LORENZO DE FELICI
VOID RIVALS #6 CVR B CHRISTIAN WARD VAR
VOID RIVALS #6 CVR C INC 1:10 EJIKURE VAR
VOID RIVALS #6 CVR D INC 1:25 KAREN S DARBOE VAR
WITCH HAMMER #2 CVR A SPARACIO
WOLVERINE 39 [FALL]
WOLVERINE 39 E.M. GIST KNIGHT'S END VARIANT [FALL]
WOLVERINE 39 TOM WHALEN X-MEN 60TH VARIANT [FALL]
WOLVERINE 39 WHILCE PORTACIO VARIANT [FALL] [1:25]
WONDER WOMAN #3 CVR A DANIEL SAMPERE
WONDER WOMAN #3 CVR B JIM LEE CARD STOCK VAR
WONDER WOMAN #3 CVR C JULIAN TOTINO TEDESCO CARD STOCK VAR
WONDER WOMAN #3 CVR D MIKE DEODATO JR ARTIST SPOTLIGHT CARD STOCK VAR
WONDER WOMAN #3 CVR E WONDER WOMAN MCFARLANE TOYS ACTION FIGURE CARD STOCK VAR
WONDERLAND CHILD OF MADNESS #1 (OF 3) CVR A AL BARRIONUEVO
WONDERLAND CHILD OF MADNESS #1 (OF 3) CVR B JORDI TARRAGONA
WONDERLAND CHILD OF MADNESS #1 (OF 3) CVR C IGNACIO NOE
WONDERLAND CHILD OF MADNESS #1 (OF 3) CVR D IVAN TAO
WORLD OF ARCHIE JUMBO COMICS DIGEST #135 (C: 0-1-1)
X-MEN 141 FACSIMILE EDITION
X-MEN 141 FACSIMILE EDITION FOIL VARIANT
ZAWA #1 (OF 5) CVR G LCSD FOIL VAR YOUNG
ZOMVIKINGS #2 (OF 2) CVR A FERREYRA (MR)